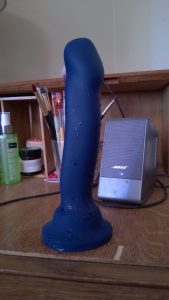 How many dildos does one have to test to find The One? 15? 50? 150? No, one can be enough.
Blush Helio, an average sized dildo, made of wonderfully plush, dual layer silicone has become our favorite dildo for strapon use. Why? Because it solves EVERY penetration problem that my sub has.
Very delicate, easily irritated throat? Helio goes right in and out, leaving no lingering soreness behind. Yes, after a longer fuck, that's no longer the case, but with any other dildo, this long throat fuck would be impossible. This dildo is the answer for people who still buy jelly toys because other silicone dildos aren't soft enough. Well – this one is.
Got a tight-ass for a sub? One that would love to get properly fucked, but spasms on anything wider than two fingers? I've got one too and she looves this dildo. It goes in with minimal prep and feels fantastic right from the start. Part of it is because of the fantastic shape and part because of the softness of the head and semi-flexibility of the shaft. "This is the first time my body can enjoy anal just as much as my mind carves it. It's the best I've had in 15 years of my experience with toys and anal" – says my sub. This dildo leaves her butt happy and relaxed, ready for a repeat performance and not irritated.
Low-hanging and sensitive cervix, urethra too close to the vaginal entrance and very, very big pubic symphysis? Those things make hard fucking, especially doggy style hard fucking, almost impossible. Helio shines here as well. It's soft, plush head doesn't bruise my sub's delicate cervix, it caresses it instead.It puts delicious pressure against the g-spot instead of stabbing it. Silky-smooth silicone leaves the urethra happy as well instead of crushing it against the bone.
This is THE dick for people who want it fast and hard and deep, but their body refuses to cooperate. This is THE dick for deep throat and anal training. This is THE dick for people who carve the softness and hardness of human body.
Real Nude Helio is made of platinum cured silicone – it will last for years to come. We can boil it or sanitize it in other ways any time we feel the need to, tough soap and water alone are enough to keep it hygienic (that can't be said for other soft materials). We can store it however we like, on a pile with other silicone dildos – it won't melt, it won't fuze with another dick. Only thing to look out for are our furballs – this kind of silicone is super-biteable.
Of course Helio isn't a be all and and all of dildos. It's great in a harness but it won't provide focused, intense g-spot stimulation that we sometimes crave. It won't give the feeling of fullness to somebody used to bigger shapes (for that look to Ergo from the same company). But no toy can do it all.
What makes us very happy when writing this review is that, thanks to unique partnership between Blush and LulaPink.pl you can get if for 160PLN. That's a really good price for silicone and unheard of bargain for dual density silicone at that! I'm all for safe and well-designed toys being affordable, so more people can enjoy them.